A place to stay
Best rates are available by booking directly with the hotel, via our website, or by calling us at (504) 313-1577.
Modern design and traditional elements blend to create unique, inviting spaces at the HHH. Curated with vintage and custom furniture and local artwork, all rooms have complimentary WiFi, premium TV channels, Nola snacks, & Beekman 1802 toiletries.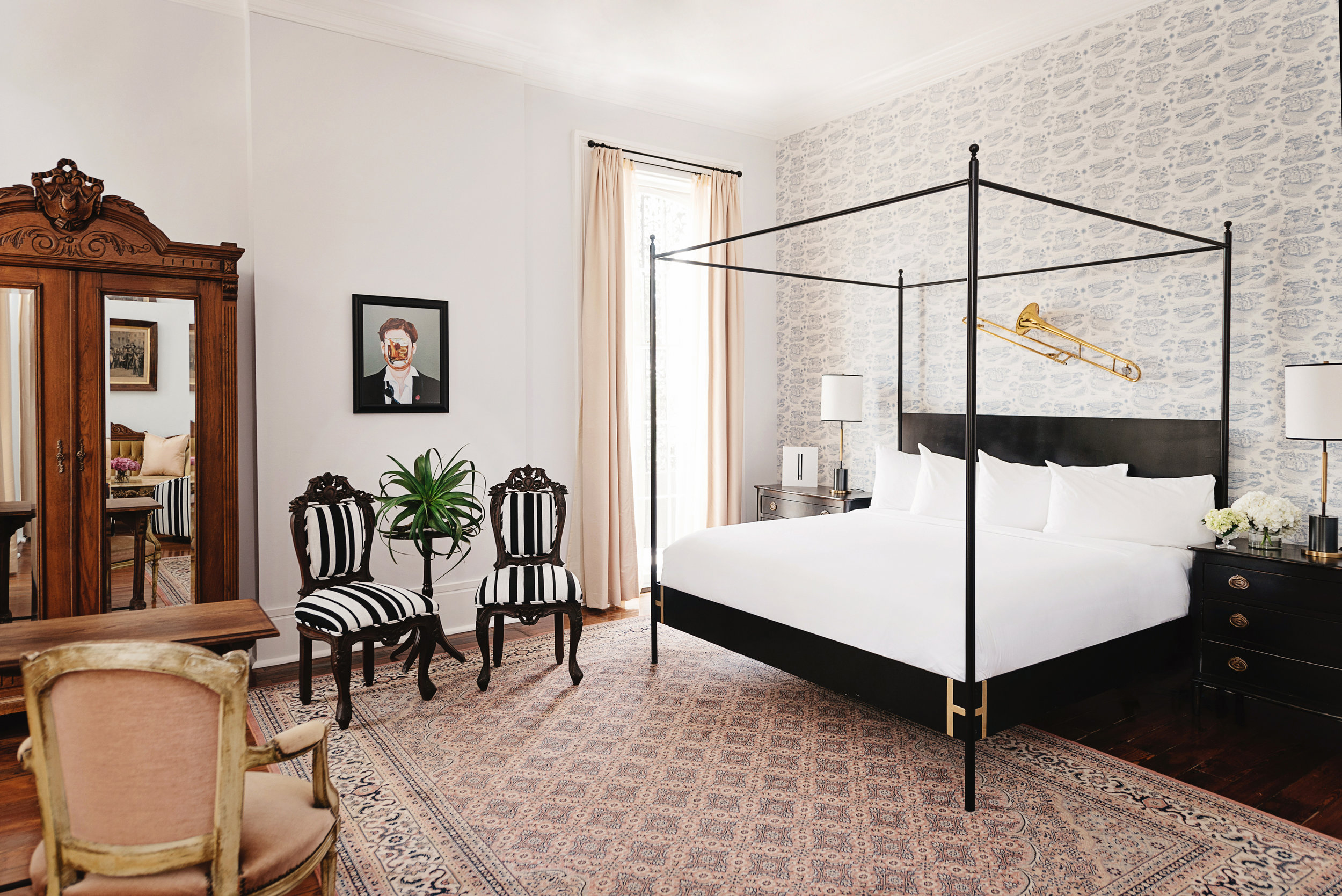 Sculptural King bed with luxurious linens. Relaxing seating area, custom antique furnishings, and a walk-out balcony with 12-foot floor-to-ceiling windows. Fit for Mardi Gras royalty!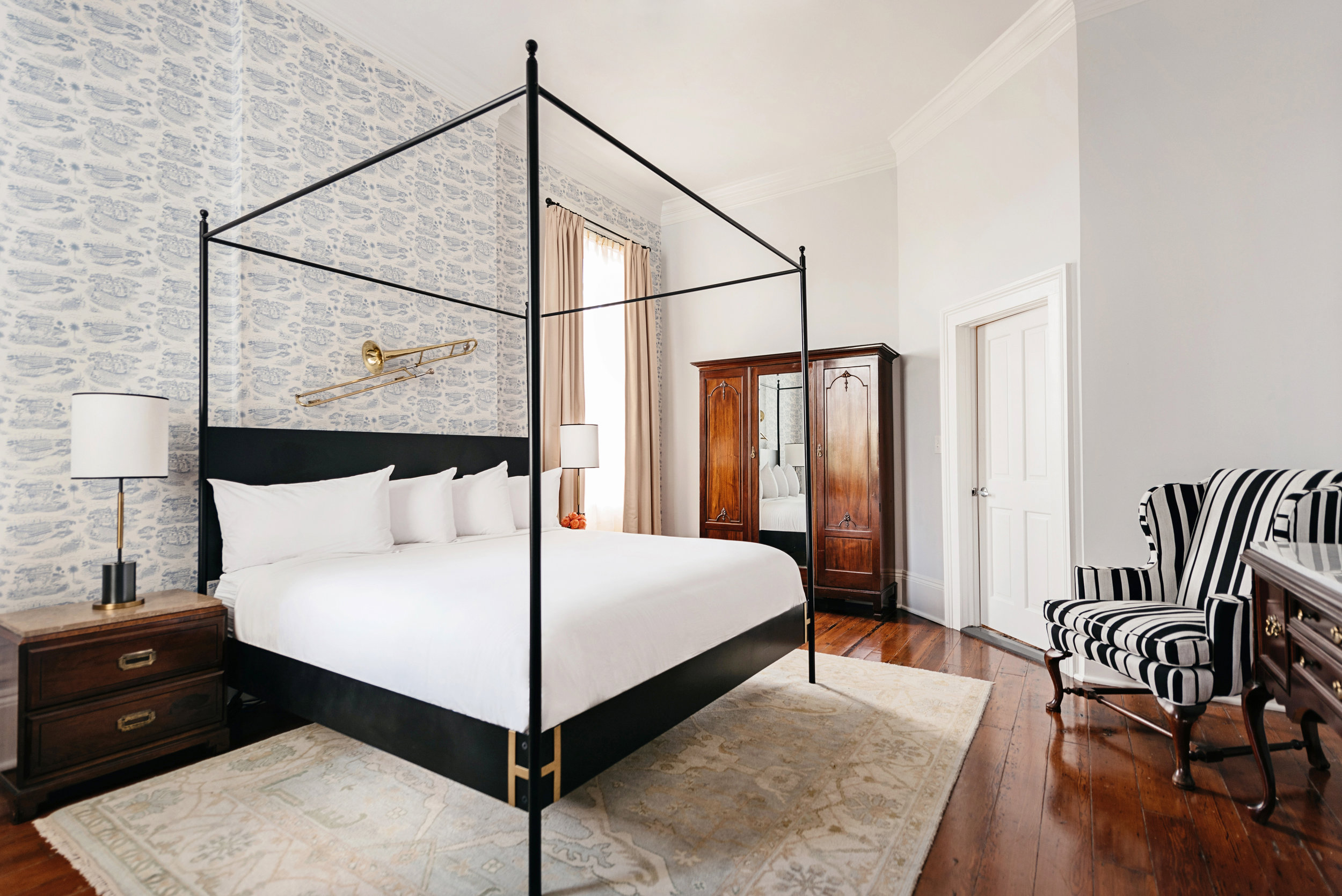 Relaxing seating area and all that jazz. Sculptural custom King bed with luxe linens, and plenty of style to spare.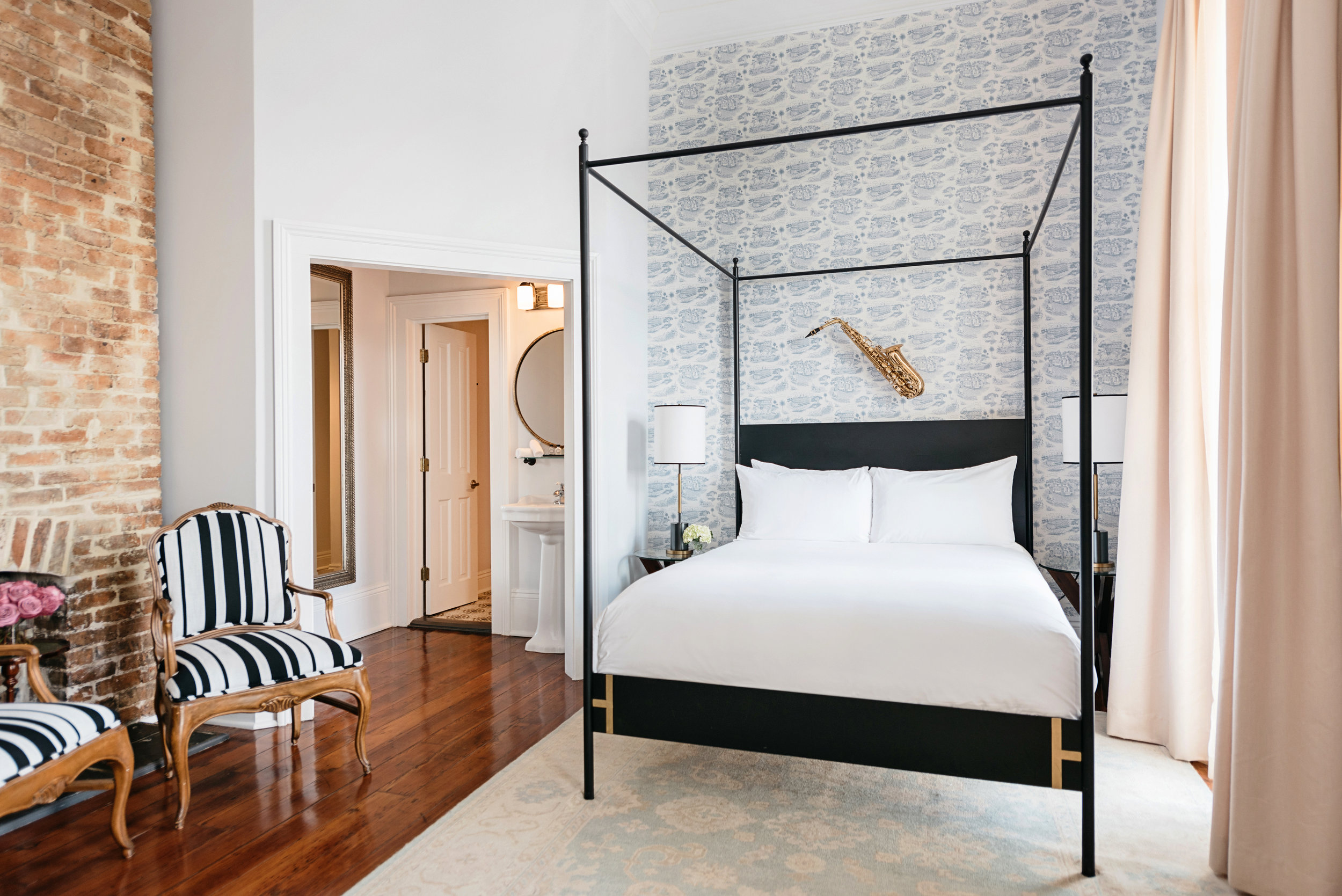 Sleeps two in a Queen sculptural iron canopy bed with the highest-quality linens. Relaxing seating area, 12-foot ceilings, antique armoires, and floor-to-ceiling windows. Antique architectural surprises throughout.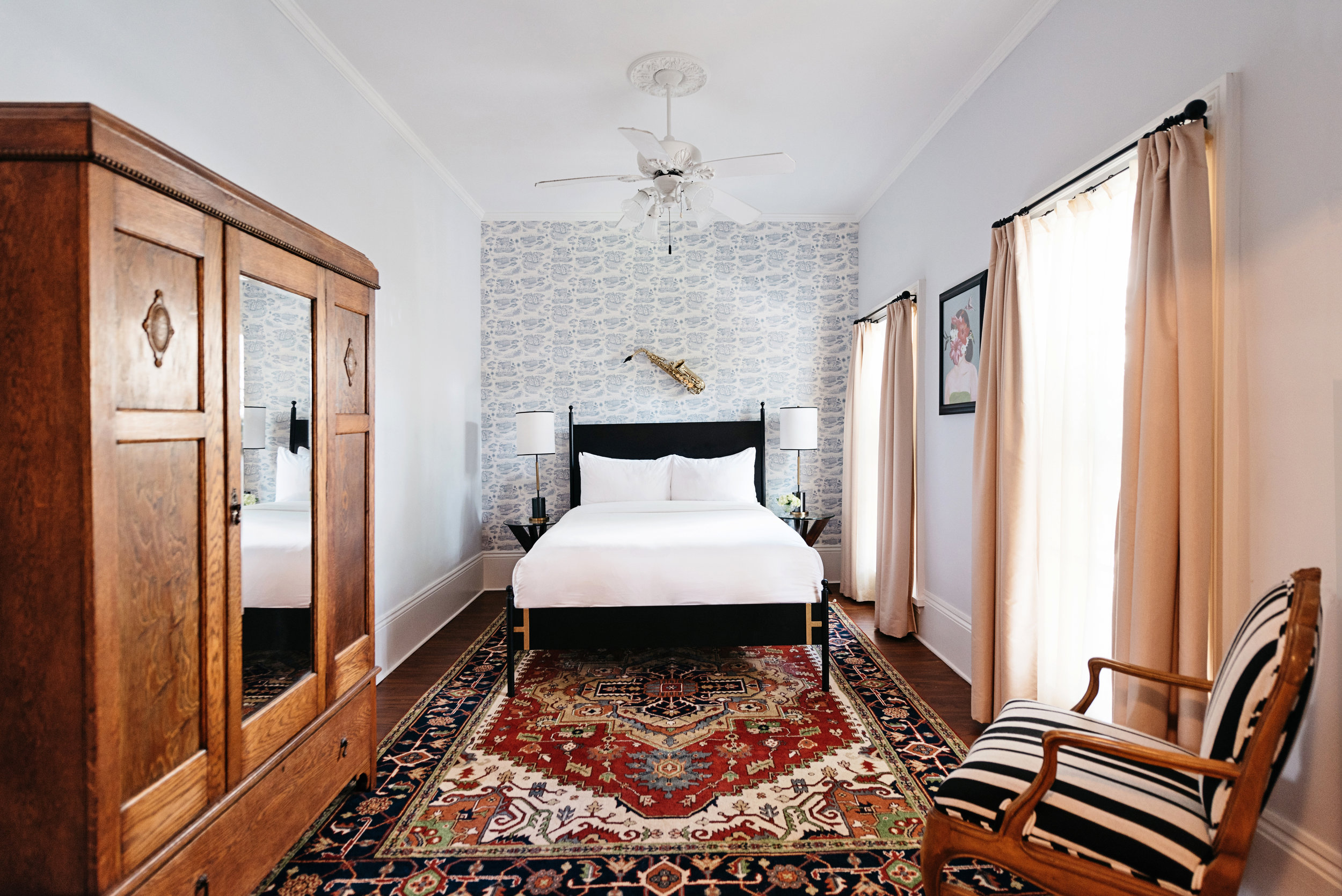 All exterior rooms sleep two in a custom four-poster Queen bed with luxurious linens. Floor plans may vary but comfort is a sure thing!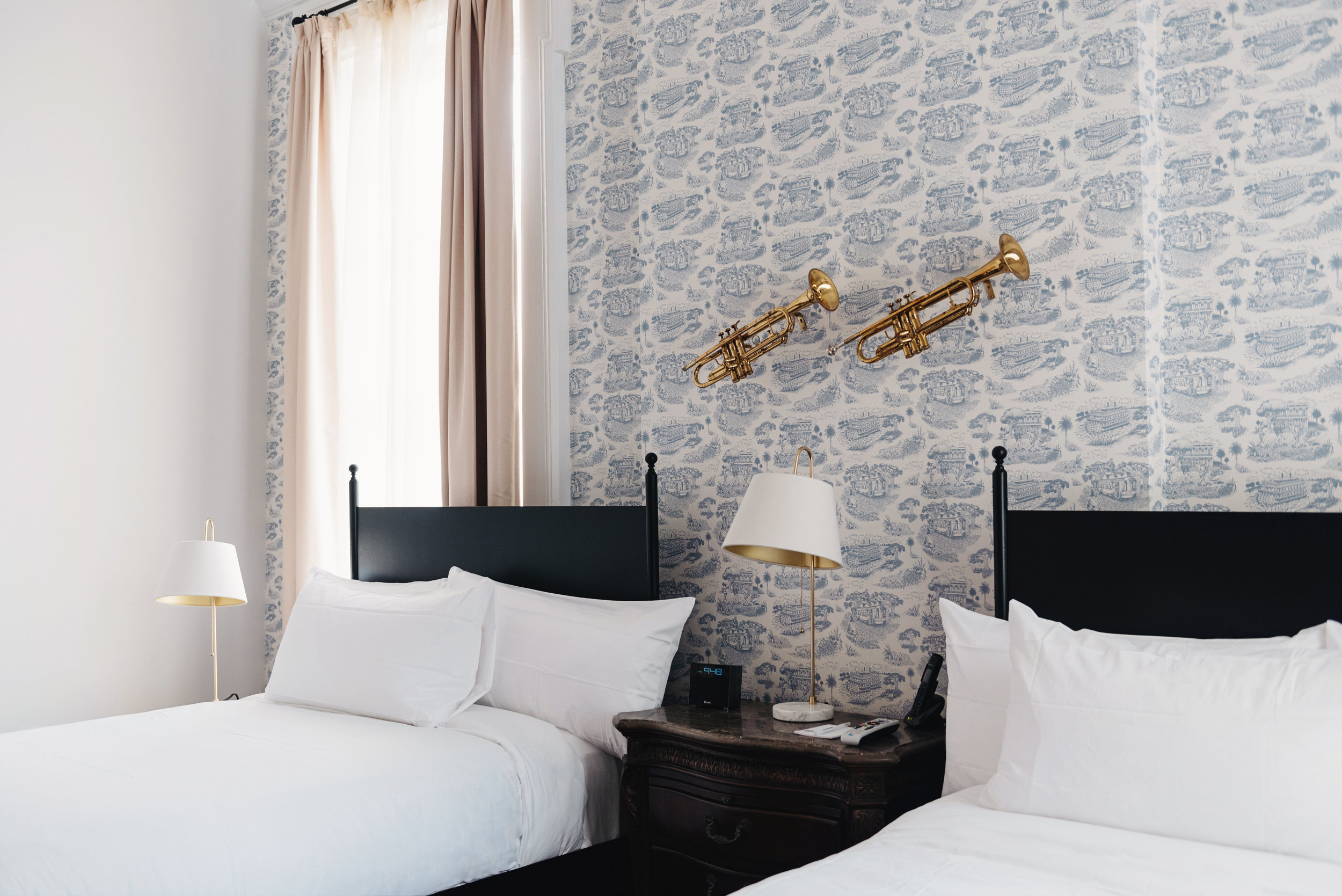 Sleeps four in two Double custom iron beds with ultra-comfortable linens and antique armoires. These generous rooms are doubly delightful.
A private third-floor suite with two European-style rooms, one Queen and King bed, and a shared full bath in a connecting hallway. The third room offers an open floor plan with Queen bed, ensuite bathroom, and spacious lounge area. Ideal for bridal parties, entertaining, or special gatherings. Accommodates up to six overnight guests.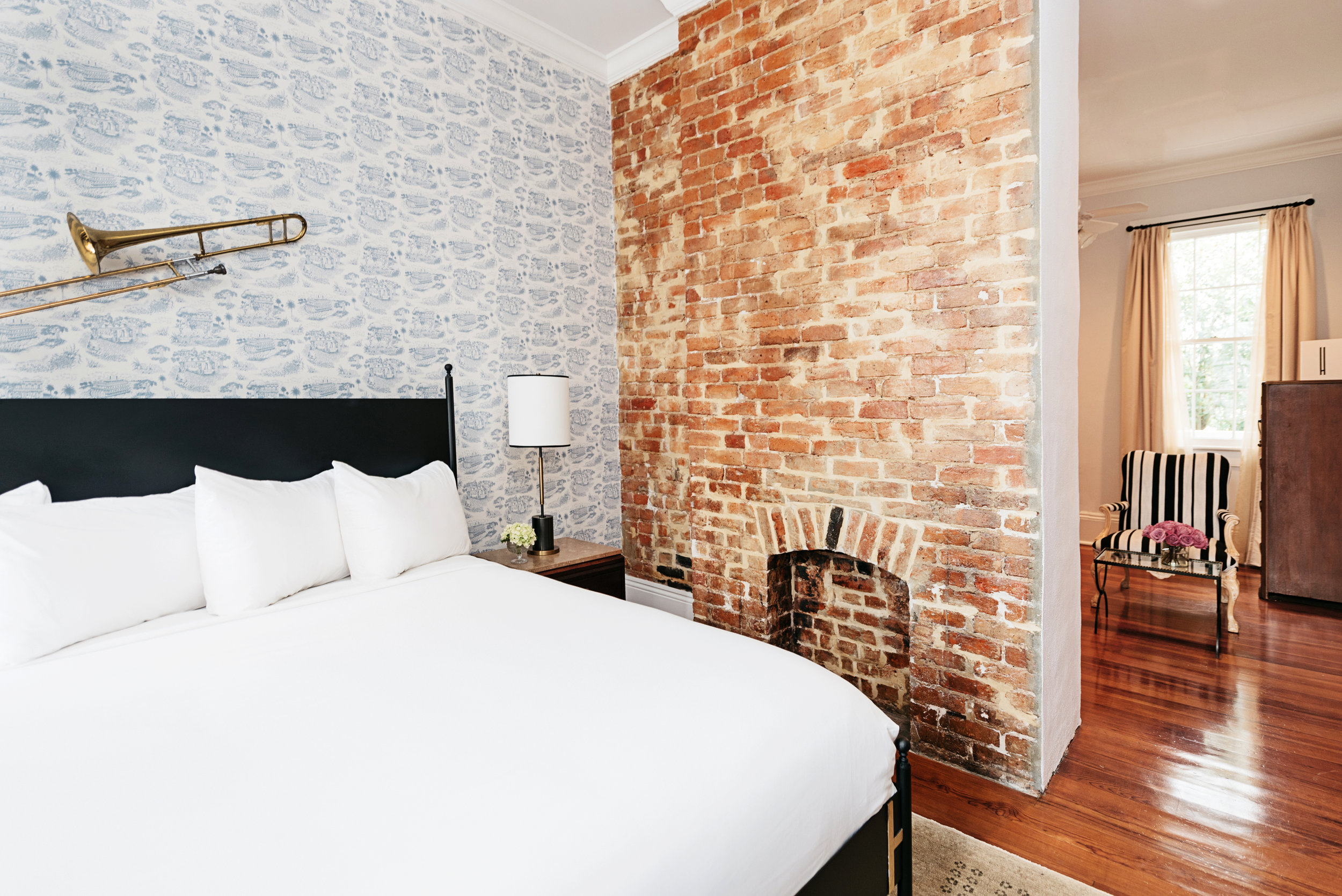 Three individual guest rooms share a common hallway that can be reserved together to create a private area for a large family or friends. Includes two Queen Superior rooms and one King Superior room. Accommodates up to six guests.
Things to Know
Check-in: 3:00 pm CST (if the room is ready sooner, we'll let you know!)

Check-out: 11:00 am CST

Late check-outs can be requested and will be granted based on availability for a small fee.

Store your luggage with us. No charge.

No smoking or pets

Street parking
Room Policies
Rates based on double occupancy. Each adult over two guests will be charged an additional $25 per person per night (with the exception of children under 12). Most rooms have a two-person max, unless noted otherwise.
Payment Policies
A credit card and card holders driver's license and/or passport is required and must be physically present at time of check-in. 14.5% tax is added to daily rates. If you're paying with someone else's credit card, the cardholder must complete a credit card authorization form prior to your stay. Credit card(s) will be charged for one night's stay and tax, seven days prior to arrival. Reservations during special events and holidays will be charged the full amount of the stay at the time of booking and are non-refundable. An additional $100 will be authorized at check-in for incidentals and will be refunded to card within two to five business days following check-out. Cash payments are not accepted.
Cancellation Policy
7 days in advance by 3:00 pm CST — No Penalty

After 3:00 pm CST — First night room and taxes are non refundable

Upon check-in, the entire length of stay is collected and is non-refundable and non-adjustable.
group policy
Group bookings are guaranteed by entering into a contract and the payment of a deposit to hold the rooms. Credit card and ID must match the reservation holder at check-in, or a credit authorization form must be submitted.